Best Barnett Ghost 420 Revenant Review
Posted on
Get Your Ghost On – A Lightweight Crossbow
The Barnett Ghost 420 Revenant CRT2 Crossbow is a lightweight package with the high-performance design. It comes with a dozen of features considering its compact and ultra sleek design not to mention its high performance. The crossbow comes with a dashing 420 fps at 149 ft. lbs. of an energy boost. It's one of the arrows that any enthusiast would die for.
The basics browsing through online shops that sell arrows and crossbows, I chanced upon this Barnett Ghost 420 Revenant. I am surprised with its features and the number of ways that it can perform. It has an innovative design for its weight of 7.6 lbs. This can be used by anyone who knows how to handle one. It can cater to any size as it has a twenty-inch length from axle to axle.
Crossbow Features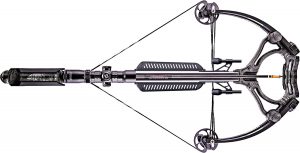 The crossbow, also knows as the Revenant houses Carbonlite Riser Technology. This contributes in the proper balancing of shoulders to avoid neck and shoulder pain after long hours of using it.
The trigger is just as fantastic as the entirety of the crossbow because of the designed Triggertech trigger. The crossbow has an aluminum flight track, comes with rail and string and cable system that you would not trade for anything else.
It is safe to say to upgrade to this crossbow rather that the usual that I get. It is also safer if the product has finger guides which happen to be the case and foregrip pass-through for added comfort and safety. Hold it firm and you can never go wrong with its bare unit.
There is not any need for you to spend thousands for unnecessary upgrades. Compared to other units, the Revenant has a whopping 15.37 inches power stroke. It entails a promising pack and stock accessories so enthusiasts do not need to upgrade as soon as they get it.
What's in the box
The crossbow package contains a rope cocking device, a side mounted quiver, a sling for your Talon Crossbow and two arrows designed by Headhunter. If your UPS guy failed to deliver even just a simple and single part of your package, the brand's customer service department should be able to assist you. They will find another part for you or probably replace the whole package if needed. It may also depend on the diagnosis of their technical team.
An illuminated scope sized at 1.5 by 5 by 32, carbon bolts sized at 2 by 22 inches, a padded sling and a very useful rubber butt pad extender are just some of the accessories and stuff that you will find inside the box.
Options for you
Given that it has everything you need fresh from the box, you still have options to choose from should you need to add accessories for added appeal and top of the line performance. A dampener kit contains ratchet bow press, a string, and two cables. Aside from these, one of the most bought kits is the optional starter kit that contains five Barnett carbon bolts, a wax, a rail lube, a laser sighting in tool and a T-shaped case padded for you to be able to properly place your bow when not in use. I recommend that you purchase these kits at once so you don't have to worry about so many other things about your crossbow. You can also purchase separate bags and crossbow stands and it would definitely fit any kind.
Get yourself going Better gear this Barnet Ghost 420 Revenant to give yourself a chance to be on top of your game. It comes with free shipping and a warranty. The creators and geniuses who made this crossbow have to be praised too for doing a job well done. The design pushes for high performance, eye for the target and ability to last throughout the years. The Revenant's speed is just as amazing as it sounds. The longer you look at it the more it gets more amazing and exciting to use. This crossbow has redefined perfection while making sure that there are stability and comfort of use. Gone are the days of heavy crossbows and cumbersome arrows that tend to get thrown all over the place. Now is the time to get your own ghost – the Barnet Ghost 420 Revenant.



---
No Replies to "Best Barnett Ghost 420 Revenant Review"
---