Best TenPoint Venom Xtra Crossbow Review
Posted on
Does TenPoint Venom Xtra Crossbow shoot as Good as It Looks?
Review of TenPoint Venom Xtra Package
TenPoint Crossbows is a crossbow manufacturer that prides themselves on quality products. One such product is the TenPoint Venom Xtra crossbow that has been making waves among crossbow enthusiasts. But is it really worth the hype?
A quick run-down of the package
The TenPoint Venom Xtra comes in a package so you can get the ultimate crossbow experience. Included in this package are:
RangeMaster Pro Scope on an aluminium 7/8 inch Fixed Dovetail Mount
3-Arrow Quiver
Ambidextrous Side-Mount Quiver Bracket
TenPoint Pro Elite carbon fibre arrows (six-pack)
Bowjax Crossbow Noise Dampening Kit
String Dampening System (SDS)
Either the patented ACUdraw or ACUdraw 50 cocking mechanism (your choice)
Instructional DVD
TenPoint vehicle window sticker
Technical aspects of the bow:
Weight: 6.7lb
Draw Weight: 185 lb
Speed: Up to 372 FPS
Quality
As all crossbow enthusiasts would know, the quality of your crossbow is paramount. Use something that is less than desirable, and it won't have a very long lifespan or you most likely won't have a great experience with it.
The TenPoint Venom Xtra is made out of laminated wood stock. To ensure that it can be used rain, hail or shine, it is finished with a durable weather-resistant semi-gloss and non-slip rubber butt plate.
Because the bow is lightweight, it is well balanced. You will be able to hold the bow up easier and without exerting any extra effort. This is great because who wants to use up all their energy just from holding the bow?
It also has IsoTaper™ limbs, HE2™ cams and Dynaflight 97 string and cables. These features work together to give the bow a speed of 372 feet per second (fps). It has an 185-pound draw weight.
The TenPoint Venom Xtra controls the noise and vibration with its retention spring and barrel dampeners. By reducing the noise and controlling the vibration, you will have a better shooting experience due to less feedback.
The two choices of cocking devices (ACUdraw and ACUdraw 50) are both lightweight covers that integrate completely into the stock so there are no excess parts that dangle down.
They both contribute to the quality of the crossbow package, as each only requires the average person's index finger to use, cleanly and accurately.
Accuracy
We all know that dreaded, sinking feeling you feel in the pit of your stomach after you find your target and take the time to line up a shot only to miss. To reduce the likelihood of missed targets, you need to get a bow that has good accuracy.
Precision is paramount and the TenPoint Venom Xtra crossbow gives ultimate accuracy with the RangeMaster Pro™ illuminated scope. The optics perform well, meaning that even in limited light conditions, you can still shoot.
The trigger is also very smooth and easy to pull.
Safety
Due to the nature of the industry, it is paramount that safety is the key focus of not just the TenPoint Venom Xtra crossbow but with all crossbows.
This crossbow, in particular, is equipped with the TenPoint dry-fire inhibitor (DFI) to prevent the bow from firing without being loaded, hence reducing potential damage to the bow and user.
It also has a 3.5-pound auto-engaging safety trigger, which also gives it a lighter pull.
Design
Have you ever had a crossbow that worked well but didn't really look that great? We know that while it is important that the bow functions properly, it is also important to have a bow that looks the part.
The TenPoint Venom Xtra has a minimalist design that is simple and looks good. The great aesthetics makes it stand out from the crowd.
It is also compact which makes it easier to carry around as well. This is important because you don't want to be trudging a heavy crossbow around.
It doesn't compromise on quality for looks either. It is still a lightweight, well-balanced bow, just with a great design.
Assembly
It is a very easy crossbow to assemble. It comes with the bow section assembled as well as the stock. All you need to do is bolt the two together, and you are done.
Price
Despite all its great features, some may be hesitant to purchase the TenPoint Venom Xtra package because of the price.
It does come off as a little pricier than other products on the market.
The Verdict:
Is the TenPoint Venom Xtra package worth it?
The TenPoint Venom Xtra package comes with everything you need to get the ultimate crossbow experience. We're talking about a compact, lightweight bow that has great precision and safety mechanisms in place. With the choice of two cocking devices, you can customise this package to your own preferences.
While the price may come as a deterrent factor for some, those who give the TenPoint Venom Xtra package a try will find that it will be well-worth it. It has great value for money as this is a crossbow that looks as good as it shoots.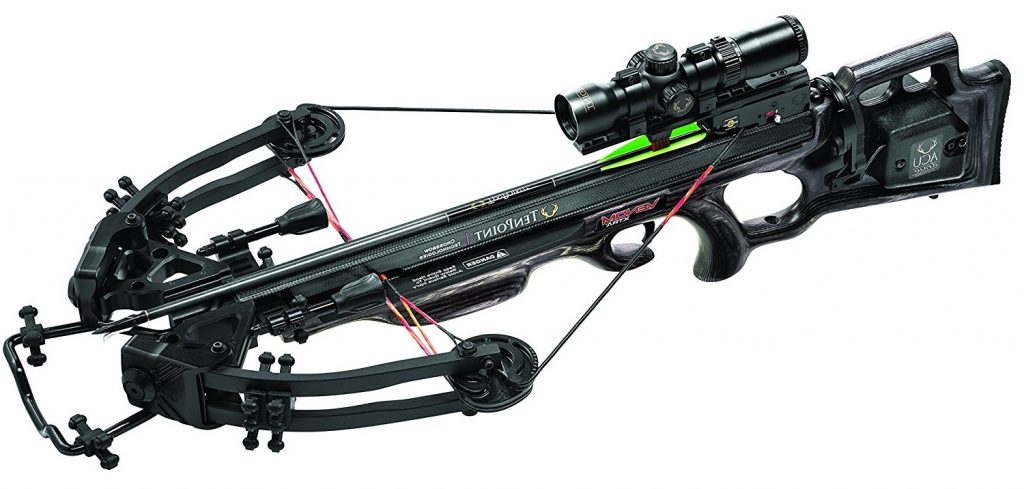 ---
No Replies to "Best TenPoint Venom Xtra Crossbow Review"
---